Culturally responsive fellowship coaching
& consulting

Learn proposal writing skills to get funding for graduate school, research & study abroad
Getting regular feedback on your draft fellowship essays is a crucial part of the application process. Fellowship Trek provides high level feedback on the Statement of Purpose and the Personal Statement for a range of fellowships, scholarships and grants. 
Learn more about Essay Review. 
Personalized fellowship coaching packages can include step-by-step advice on how to write compelling application essays, feedback on your drafts, final review of your entire application for argumentation and cohesion, practice interviews, advice on how to secure strong letters of recommendation and help identifying additional funding opportunities that fit your goals.
Learn more about One-On-One Coaching.
What students are saying:
"Dr. Meinzer helped me reach one of the most life-changing experiences of my academic career. She took the time to build trust and helped me see the amazing things I can do."
-Aylin Duarte, Fulbright grantee to Argentina
"Dr. Meinzer is a great coach! She is patient and encouraging, and I always left our conversations with the passion to move forward!"

-Morgan Robledo, University of Texas at El Paso Graduate
"I was very nervous about writing essays for fellowships and scholarships, but now I feel way more confident. Thank you for this program, this is the best thing I could have done!"


-Proposal Writing Workshop Participant
About Melanie Meinzer, Ph.D.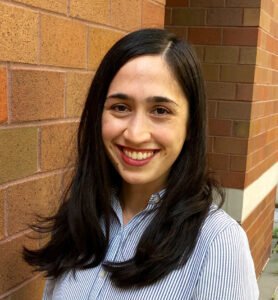 Dr. Meinzer (she/her) has a Ph.D. in Political Science from The University of Connecticut and previously directed the British Marshall Scholarship in New England. She also directed a suite of fellowships intended to diversify the professoriate, including post-baccalaureate fellowships for the Mellon Mays Undergraduate Fellowship Program and the Career Enhancement Fellowships for Junior Faculty at the Institute for Citizens and Scholars (formerly the Woodrow Wilson National Fellowship Foundation). As a former Boren Fellow (West Bank) and Critical Language Scholarship (Arabic) awardee, she enjoys helping students connect their passion and purpose to fellowships. Dr. Meinzer served as a Fulbright Program Adviser and mentored hundreds of students in her role as Director of National and International Fellowships at The University of Texas at El Paso, a Hispanic-serving top research university. Her students have won Fulbright, Boren, NSF-GRFP, Gilman Scholarships and other honors. Dr. Meinzer held a Consortium for Faculty Diversity Postdoctoral Fellowship at Denison University, an American Council of Learned Societies Leading Edge Postdoctoral Fellowship at The Center for Cultural Power, and a Dissertation Fellowship at UCONN's Humanities Institute. Her writing on international development, climate change, and culturally responsive mentoring appears in academic publications, and in Jadaliyya, Alliance Magazine and Inside Higher Ed.
Curriculum Vitae  |  Media  |  Op-ed: Closing the Fellowship Diversity Gap
Dr. Meinzer has been awarded the following fellowships:
Dr. Meinzer has directed these awards:
Consulting for colleges, universities
& non-profits
Fellowship Trek advises universities, foundations, and non-profits on:
Designing fellowship programs, recruiting applicants and administering fellowships in ways that center diversity, equity, inclusion & belonging.
Facilitating interactive graduate and undergraduate funding workshops on proposal writing, including the Statement of Purpose/Research Proposal and the Personal Statement for Ford, Mellon/ACLS, Fulbright, NSF-GRFP, Boren and other awards.
Inspiring and engaging students through culturally responsive mentoring & strengthening alumni and mentor networks.
Managing recruitment, candidate preparation, and campus interviews for prestigious fellowships such as Fulbright, NSF-GRFP, Marshall, Rhodes, Schwarzman and others.
Read more about my approach
here.
Contact me at consulting [at] fellowshiptrek [dot] com